Vivian Davies
Former Keeper of Ancient Egypt and Sudan at the British Museum
E-mail
kurgus2004 [at] yahoo . co . uk
Research Interests
History and monuments of the Second Intermediate Period and early New Kingdom;
Relations between Egypt and the Kingdom of Kush;
Colonial administration of Nubia;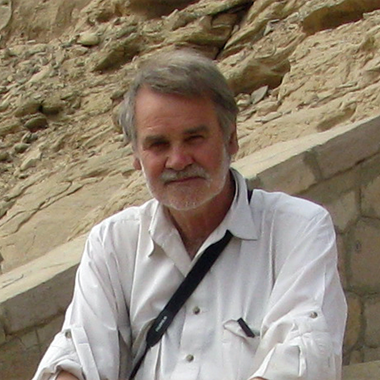 Current Projects
Recording and publication of tombs of the late SIP and early 18th Dynasty at the sites of Elkab- Hierakonpolis and Hagr Edfu in Upper Egypt;
Recording and publication of late SIP and early 18th Dynasty material from Egyptian sites in the Nubian Nile Valley;
Epigraphic survey of gold-mining areas of the Eastern Desert;
Study of archival records relating to early archaeological work in northern Sudan.
Recent Publications
'The tomb of Ahmose Son-of-Ibana at Elkab. Documenting the family and other observations', in W. Claes, H. De Meulenaere, and S. Hendrickx (eds),

Elkab and Beyond. Studies in Honour of Luc Limme. OLA

191. Leuven, 139-175. (2009);
'The British Museum epigraphic survey at Tombos: the stela of Usersatet and Hekaemsasen',

Sudan & Nubia

13, 21-29. (2009)
'Renseneb and Sobeknakht of Elkab: the genealogical data', in M. Marée (ed.),

The Second Intermediate Period (Thirteenth-Seventeenth Dynasties). Current Research, Future Prospects. OLA

192. Leuven, 223-40. (2010);
'Merymose and others at Tombos',

Sudan & Nubia

16, 29-36. (2012);
'The Tomb of Sataimau at Hagr Edfu: An overview',

British Museum Studies in Ancient Egypt and Sudan (BMSAES)

20, 47-80. (2013);
'A statue of Amenhotep III rediscovered', in J. R. Anderson, and D. A. Welsby (eds),

The Fourth Cataract and Beyond. Proceedings of the 12th International Conference for Nubian Studies. BMPES

1. Leuven, 399-408. (2014);
'From Halfa to Kareima: F. W. Green in Sudan',

Sudan & Nubia

18, 2-19. (2014);
'The Korosko Road Project: recording Egyptian inscriptions in the Eastern Desert and elsewhere',

Sudan & Nubia

18, 30-44. (2014);
'A view from Elkab: the tomb and statues of Ahmose-Pennekhbet', in J. M. Galán, B. M. Bryan and P. F. Dorman (eds),

Creation and Innovation in the reign of Hatshepsut. SAOC

69. Chicago, 381-409. (2014).
This page is originally accessible from the Griffith Institute Honorary Senior Research Associates page