Horeau MSS 3.1
(Panorama d'Égypte et de Nubie pl. viii [left])
Concept and direction: Jaromir Malek
Cataloguing and HTML editing: Luigi Prada
Initial cataloguing: Rosalind Moss
Additional cataloguing and editing: Alison Hobby and Jaromir Malek
Scanning: Jenni Navratil
Coordination: Elizabeth Fleming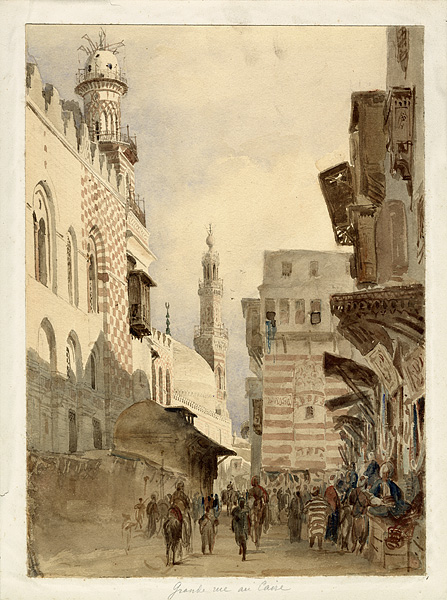 watercolour, 25 by 34.5 cm
[on the mount]
Grande rue au Caire
[on the mount verso]
1. Grande Rue du Caire
Cairo
Street Bayn el-Qasrain (Between the Two Palaces) with the madrasas of Sultans Qalawun and Barquq on the left and the madrasa of Sultan al-Zahir Baybars ahead.
---
Back to the catalogue of watercolours, or gallery of images, or list of sites.
---