Watercolours of Egypt
made by Hector Horeau in 1838,
now in the Archive of the Griffith Institute.
Concept and direction: Jaromir Malek
Cataloguing and HTML editing: Luigi Prada
Initial cataloguing: Rosalind Moss
Additional cataloguing and editing: Alison Hobby and Jaromir Malek
Scanning: Jenni Navratil
Coordination: Elizabeth Fleming
Copyright of all images © Griffith Institute, University of Oxford
High-resolution scans are available
Conditions of use and charges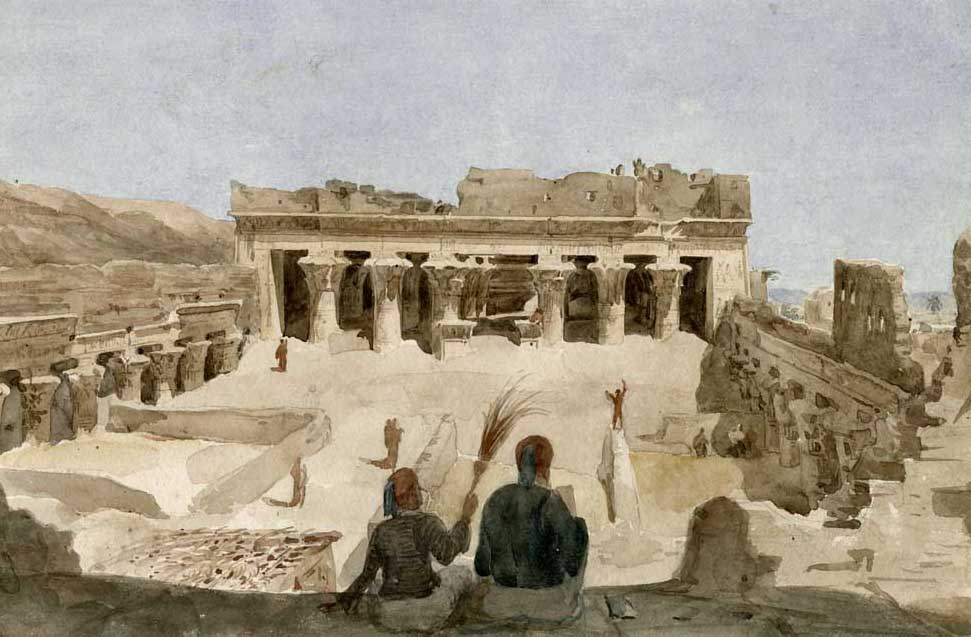 Introduction
by Luigi Prada,
with contributions by Alison Hobby and Jaromir Malek
Hector Horeau was born in Versailles in 1801. He was trained at the École des Beaux-Arts in 1819-1822, being a student in the ateliers of E. Ch. Nepveu and F. Debret. From 1821, he worked first as an illustrator: amongst his commissions was that for the plates of F. Cailliaud's Voyage à Méroé (1826-7). In 1825 he received his first commission as an architect, and architecture remained his main interest and occupation for the rest of his life, which was spent working on both private and public projects in France and England. His main accomplishment was the Winter Garden in Lyon (1847); this no longer exists, and none of his completed projects for private commissions still exist or can be identified.
His material contribution to architecture was relatively small, but he was famous during his life and remains a prominent figure in the history of architecture, mainly because of his unrealized, often visionary, projects and publications. He was a pioneer in cast-iron architecture, and also had strong interests in city planning: he won the competition for the Covered Market in Versailles, 1839, and that for the design of the palace (what would become the Crystal Palace) for the Universal Exposition in London 1851. Neither of these projects was in the end realized, as happened also with his proposals for the Halles of Paris, 1849.
Frustrated, he decided to move to England in 1856, but none of his plans were realized there either. One of outstanding interest was his proposal for the construction of a railway tunnel under the Channel, connecting Calais with Britain.
In 1871, hoping that the Paris Commune would change the situation in France, he moved back to Paris and was appointed by the short-lived government of the Commune as Chef de l'Édilité Hygiénique, a position which he kept for only a few weeks. With the end of the Commune, he was arrested and imprisoned for several months, at the age of seventy. Finally released, he never recovered from the imprisonment and died a few months later in Paris, 1872.
During the first part of his life he travelled extensively around Europe (Germany, Belgium, Netherlands, Italy, England, Russia, Sweden) and Egypt. In Egypt, in 1838, he visited the entire country, including Nubia, and produced many watercolours and sketches. On his return from the Near East, he was made treasurer of the Société Asiatique, 1842. His interest in Egypt lay in both its ancient monuments and the modern country and its population, and it would stay with him for the rest of his life, as shown by his work L'Avenir du Caire au Point de Vue de l'Édilité et de la Civilisation, published two years before his death, in 1870.
A selection of Hector Horeau's watercolours was published as Panorama d'Égypte et de Nubie, avec un Portrait de Méhémet-Ali et un Texte Orné de Vignettes in Paris, published 'Chez l'-auteur', between 1841 and 1846. The book has 37 plates, each accompanied by a two-page descriptive text which usually contains several additional small illustrations (engravings). The plates measure 59.5 (height) by 40 cm. There are apparently copies with colour plates (not seen by us). A list of 103 subscribers to the publication is at the end of the volume.
The watercolours were bequeathed to the Griffith Institute by Dr Thomas Staines-Read of Henley-on-Thames, and came to the Archive in 1967. The watercolours were in a very good condition, and the only conservation work needed was to buffer the plates with acid-free conservation grade paper, and to have two portfolios made to house them.
Note on the transcripts in the individual files
The notes in French have been copied as they appear on the original documents. Neither the orthography (often very irregular), nor the content of the texts (in several cases incorrect concerning the designation of the subject) has been edited.
All texts still legible on the documents have been copied, with the exception of numbers referring to scales and measurements that are not associated with any textual note. Traces of text too faint to be read have been ignored. Where the text cannot be read with certainty, square brackets with blank space between them have been used [ ].
Main sources of information on Hector Horeau
Dictionnaire de Biographie Française, tome 17 (Paris: Letouzey et Ané, 1989), 1292-4
Dawson, W. R., Uphill, E. P. and Bierbrier, M. L. Who Was Who in Egyptology, 3rd ed. (London: EES, 1995), 207-8
Hector Horeau, 1801-1872 (Paris: Direction de l'architecture, 1978)
Hector Horeau, ISAD(G) form for Hector Horeau on the website of the Griffith Institute, Oxford.
(April 7, 2010)
---
Back to electronic resources
---