T.G.H. James and J. Malek, A Dedicated Life. Tributes Offered in Memory of Rosalind Moss.
128 pp. 22.5 x 14 cm; 12 pp of illus; ISBN 0 900416 56 4; 1990; cloth. £21.00.
---
Rosalind Moss (1890-1990) was one of the most remarkable figures in Egyptology in this century. Between 1924 and 1972 she edited the Topographical Bibliography of Ancient Egyptian Hieroglyphic Texts, Reliefs and Paintings. Her work exerted profound influence on research techniques in Egyptology. This volume contains reminiscences by twenty friends and colleagues and presents a vivid and absorbing picture of Egyptological community during the period of the great expansion of the subject between 1920 and 1970.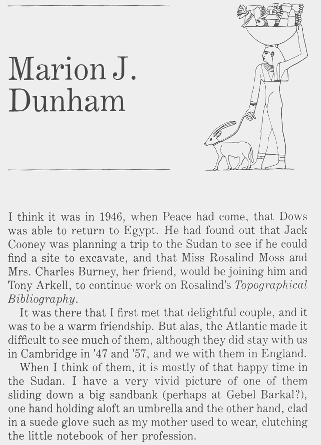 Page 35.