NEW ACCESSIONS : EGYPTOLOGY 1/1997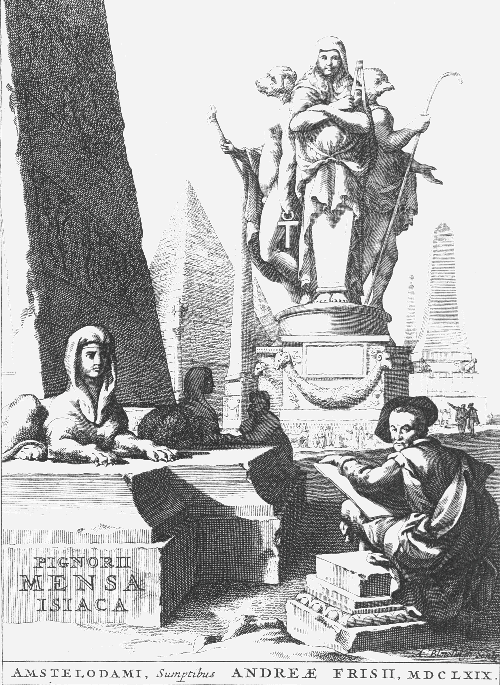 Frontispiece from Mensa Isiaca
by Lorenzo Pignoria, Amsterdam, 1669
Bioarchaeology of ancient Egypt and Nubia : bibliography / compiled by Jerome C. Rose (British Museum. Occasional paper, 112). London: British Museum, 1996. 0861591127
Death and taxes in the ancient Near East / edited by Sara E. Orel. Lewiston: Edwin Mellen Press, 1992. 0773495126
Felix Teynard : calotypes of Egypt : a catalogue raisonne / essay by Kathleen Stewart Howe. London: Robert Hershkowitz, 1992. 0962109622
Love lyrics of ancient Egypt/ translated by Barbara Hughes Fowler. Chapel Hill: University of North Carolina Press, 1994. 0807821594 (cloth), 0807844683 (paper)
Painted plaster from Kom el-Samak at Malqata-South, I / edited by Sakuji Yoshimura (Egyptian Culture Center of Waseda University. Occasional papers, 1) Tokyo: Waseda Univ., 1995 {Text in Japanese with English summary]
Thirteen Coptic acrostic hymns from manuscript M574 of the Pierpont Morgan Library / edited by K.H. Kuhn & W.J. Tait. . Oxford: Griffith Institute, 1996. 0900416661
Untersuchungen zu Idu II, Giza : ein interdisziplinares Projekt / herausgegeben von Bettina Schmitz. (Hildesheimer Agyptologische Beitrage, 38). Hildesheim: Gerstenberg, 1996. 3806781354
Anselin, Alain Anamneses : Elementes d'une grammaire du verbe, du geste et du corps en egyptien et dans les langues negro-africaines modernes. Abymes:Unirag, 1993. 2950638325
Antiquarius (Firm) Ancient art and items of archaeological interest. Sales List, June 1996 . Nottingham: Antiquarius, 1996.
Assmann, Jan Akhanyati's theology of light and time. (Israel Academy of Sciences and Humanities, Proceedings 7, iv). Jerusalem: The Academy, 1992
Behlmer, Heike & Alcock, Anthony A piece of Shenoutiana from the Department of Egyptian Antiquities (EA 71005) . (British Museum. Occasional paper, 119). London: British Museum, 1996. 0861591194
DuQuesne, Terence ERDA: a database for Egyptian and comparative religion . London: Darengo, 1996.[updated May 1996, with Addenda August-October 1996].
Edwards, David N. The archaeology of the Meroitic state : new perspectives on its social and political organisation (British Archaeological Reports. International Series, 640; Cambridge monographs in African archaeology, 38). Oxford: Tempus Reparatum, 1996. 0860548252
Franco, Isabelle Rites et croyances d'eternite. (Bibliotheque de l'Egypte ancienne). Paris: Pygmalion/Gerard Watelet, 1993. 2857043864
Goldwasser, Orly From icon to metaphor : studies in the semiotics of the hieroglyphs . (Orbis Biblicus et Orientalis, 142). Gottingen: Vandenhoeck & Ruprecht, 1995. 3525537778
Grimm, Alfred Wilhelm Spiegelberg als Sammler . (Recherchen zu Aegyptiaca in Munchen Studien zur Erwerbungsgeschichte der Sammlung, 1) Munchen: Staatliche Sammlung Agyptischer Kunst, 1995. 387490606X
Herbin, Francois Rene Le livre de parcourir l'eternite. (Orientalia Lovaniensia Analecta, 58) Leuven: Peeters, 1994. 9068315080
Mallinson, M.D.S. ... [et al.] Road archaeology in the middle Nile ; the SARS survey from Bagrawiya-Meroe to Atbara, 1993 (Sudan Archaeological Research Society. Publication no. 1). London: SARS, 1996. 1901169006
Murray, Margaret My first hundred years. London: Kimber, 1963
Otto, Karl-Heinz & Buschendorf-Otto, Gisela Felsbilder aus dem sudanischen Nubien, 2 vols. (Publikation der Nubien Expedition 1961-1963, Bd. 2). Berlin: Akademie Verlag, 1993. 3050018488
Peust, Carsten Indirekte Rede im Neuagyptischen (Gottinger Orientforschungen, IV Reihe: Agypten, 33) Wiesbaden: Harrassowitz, 1996. 3447038047
Seidel, Matthias Die koniglichen Statuengruppen. Bd. 1, Die Denkmaler von Alten Reich bis zum Ende der 18. Dynastie. (Hildesheimer Agyptologische Beitrage, 42). Hildesheim: Gerstenberg, 1996. 3806781362
Thomas, Nancy The American discovery of Ancient Egypt. Los Angeles: County Museum of Art ; distributed by Abrams, 1995. 0810963124 (cloth) 0875871747 (paper)
Valloggia, Michel Vie quotidienne et voies de communication en Egypte ancienne (Les civilisations orientales : grandes oeuvres G16) Liege: Faculte de Philosophie et Lettres de l'Universite de Liege, 1986
Wiese, Andre B. Die Anfange der agyptischen Stempelsiegel-Amulette : eine typologische und religionsgeschichtliche Untersuchungen zu den Knopfsiegeln und verwandten Objekten der 6. bis fruhen 23. Dynastie. (Orbis Biblicus et Orientalis. Series Archaeologica 12). Gottingen: Vandenhoeck & Ruprecht, 1996. 3525538936
Wilkinson, Toby A.H. State formation in Egypt : chronology and society (British Archaeological Reports. International Series 651; Cambridge monographs in African Archaeology, 40). Oxford; Tempus Reparatum, 1996. 0860548384
(February 4, 1997)