The sketches and other material of Joseph Bonomi.
Joseph Bonomi (1796-1878) was a draughtsman and traveller who worked in Egypt with some of the best-known scholars of the first half of the 19th century, such as Robert Hay, James Burton, E.W. Lane, Sir John Gardner Wilkinson, and Ippolito Rosellini. He was a member of Richard Lepsius's expedition in 1842-4. He was appointed Curator of Sir John Soane's Museum in 1861.

The collection presented to the Archive of the Griffith Institute consists of some 500 sketches, watercolours, tracings, etc. They date to various periods of Bonomi's career and include Egyptian as well as Classical, 19th-century Egyptian and other subjects (including Palestine). The Egyptian material contains general views of monuments, such as Trajan's kiosk at Philae or the temple-remains at Elephantine, architectural views, and copies of various monuments, e.g. of a fragment of the sarcophagus of King Ay and other objects at Hartwell House.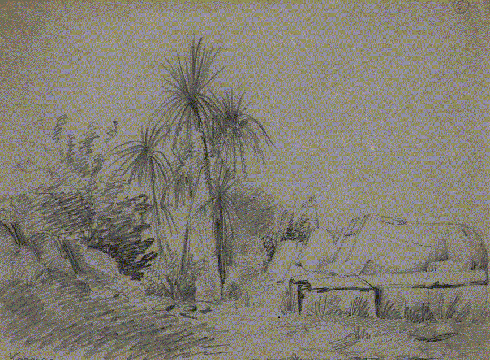 A view of an alley of sphinxes at Karnak.
Bonomi MSS.
(May 14, 1997)