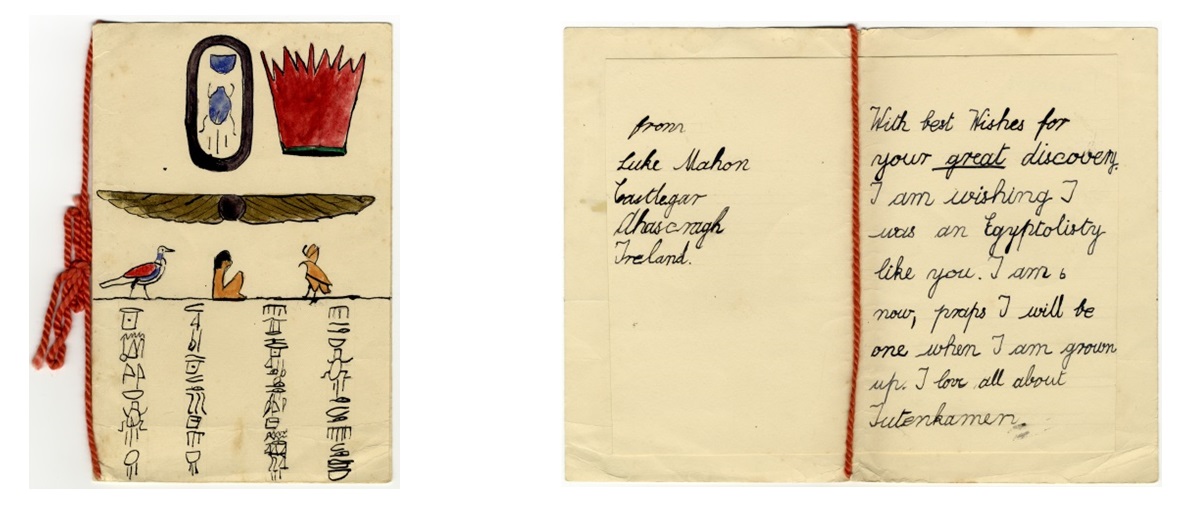 Background information: One of the letters of congratulation sent to Howard Carter shortly after the discovery of the tomb of Tutankhamun. Luke Mahon, was six years old when he sent this card. Inside he writes:
With best wishes for your great discovery. I am wishing I was an Egyptolisty [Egyptologist] like you. I am 6 now, praps [perhaps] I will be one when I am grown up. I love all about Tutenkamen.
from Luke Mahon, Castlegar, Ahascragh, Ireland
.
---
Activities
Object activities - read what is written in the card; discuss how you think Luke made his card; what do think might be on the back of the card?
Extension activities
- which modern person or recent event has inspired you and why; create a fan-letter or card and decorate it with something associated with the person you admire or the event that has inspired you; make a small collection of different letters and cards.
---
Related objects:
Letter writing templates:
www.tes.co.uk/teaching-resource/Letter-writing-6137096/
Ancient Egyptian designs:
www.egyptartsite.com/design.html