And once again... 'Sold to the Griffith Institute!' On 9 May 2017 the Griffith Institute acquired at auction an album of watercolours, drawings and tracings of Egypt by George Lloyd. This was only possible thanks to a generous grant from the Friends of the National Libraries, who previously supported our institution with Minnie Burton's diary project.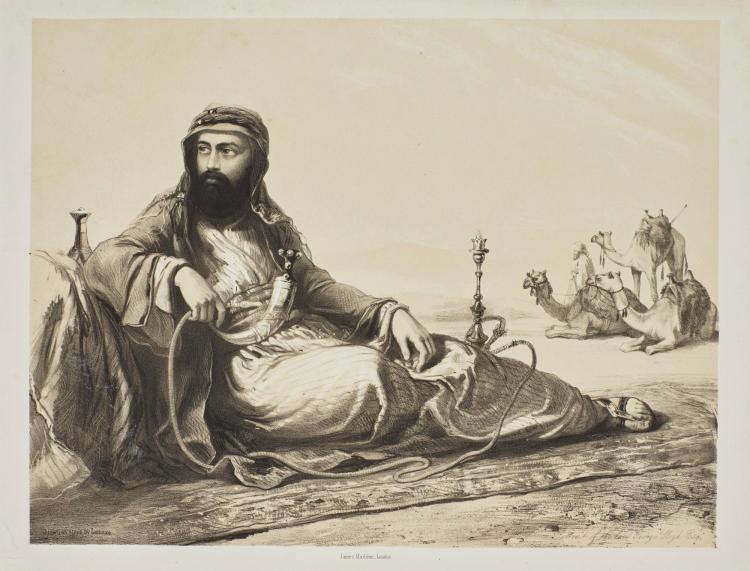 George Lloyd (1815-1843) was a British botanist, excavator and traveller. He was probably born in India on 17 October 1815, the illegitimate son of Sir William L. of Brynestyn, a Welsh soldier and pioneer mountaineer, and an Indian lady. Lloyd was a member of the Cairo Literary Society and excavated at Thebes with Émile Prisse d'Avennes between 1839 and 1843. He died aged 27 in an accident at Qurna on 10 October 1843. His papers and botanical collections were given to the Botanical Garden of Montpellier.
The album was produced close to the end of Lloyd's life (c. 1842-1843). It is a folio volume (428 x 318 mm), containing 135 watercolours and drawings (74 of which are full-page and 1 folding) and 10 tracings (8 folding). They are all mounted and most are captioned in pencil either on the image itself or on the mount. The album also contains a loose lithographed portrait of George Lloyd in Arab dress by Prisse d'Avennes, who published it in his Oriental Album: Characters, Costumes and Modes of Life in the Valley of the Nile (1848). One of the drawings in the album is a pencil portrait of Lloyd sketched by Prince Alexis Soltykoff.
The acquisition of the album is the first step in a wider project which aims to preserve, catalogue and make it entirely available on the Griffith Institute online catalogue.