The diary of Minnie C. Burton
The woman behind the man behind the camera: re-discovering the tomb of Tutankhamun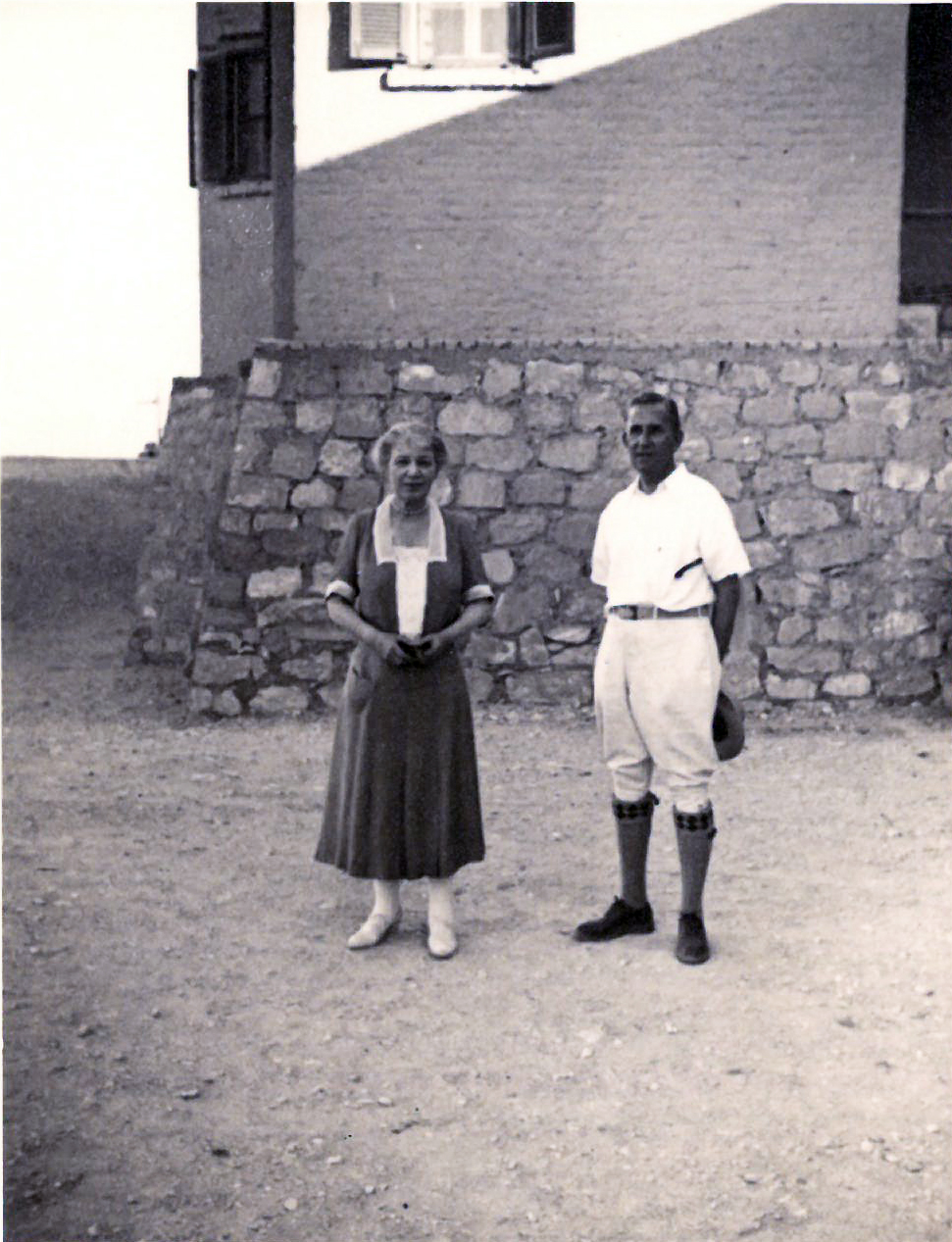 Minnie and Harry Burton at the Metropolitan Museum Expedition House at Qurna, Egypt
(© Metropolitan Museum of Art, New York)
Introduction
"I heard from Mrs. Burton a few weeks ago; she has just heard that her house [in Florence] and all possessions had been destroyed when the Germans mined that part of the city; I was afraid it might be so when I saw some photographs in the paper." (Newberry MSS. 1.49.35: letter to Professor Percy E. Newberry from Miss Phyllis Walker, niece of Mr Howard Carter, dated 7th February 1945)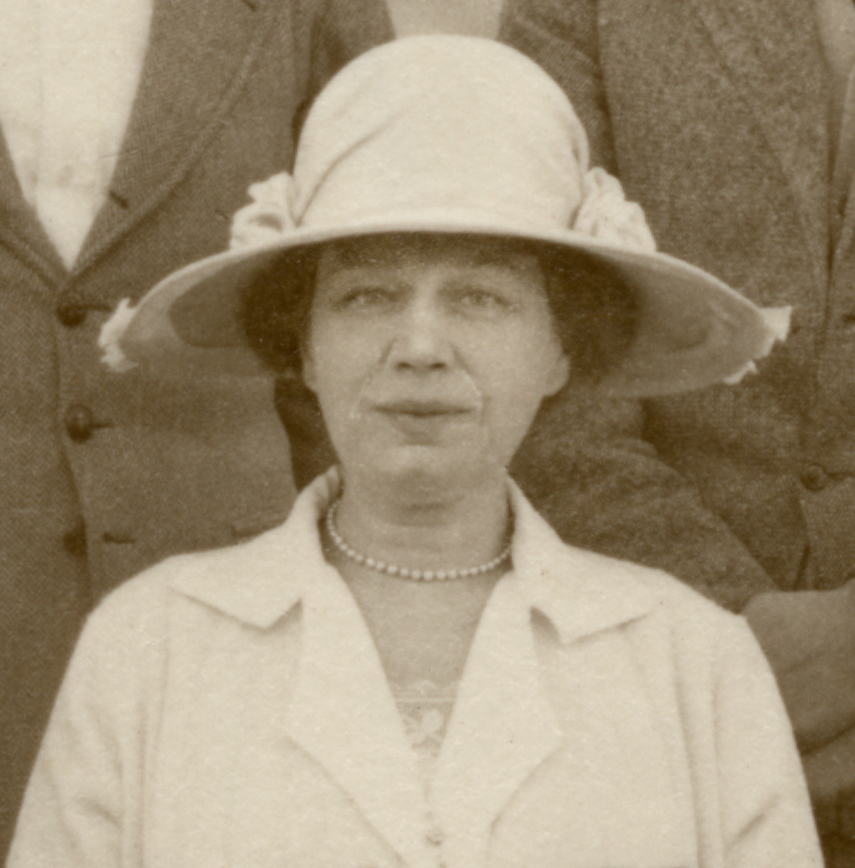 The diary presented here belonged to Minnie C. Burton, wife of the British archaeologist and photographer Harry Burton, who worked with Howard Carter during the excavation of the tomb of Tutankhamun. It is one of only a few surviving items from the couple's personal belongings and papers, as the extract reproduced above helps explain.
The Griffith Institute acquired it at auction on 14th July 2015 thanks to two generous grants from the Friends of the National Libraries and the Heritage Lottery Fund.
Biographical note
Minnie Catherine Burton (née Duckett) was born in Folkestone, Kent, on 31st December 1875. She was the only child born to William Morton Duckett (1852-1922) and Sarah Ann/Annie Macwilliams (1854-1922). In 1914 she married her second husband Harry Burton (1879-1940), whom she accompanied on all his travels. Neither Harry nor Minnie had children from either of their marriages. Minnie died in Florence (Italy) on 30th May 1957. Her grave is located in the Allori Cemetery, where her parents are also buried.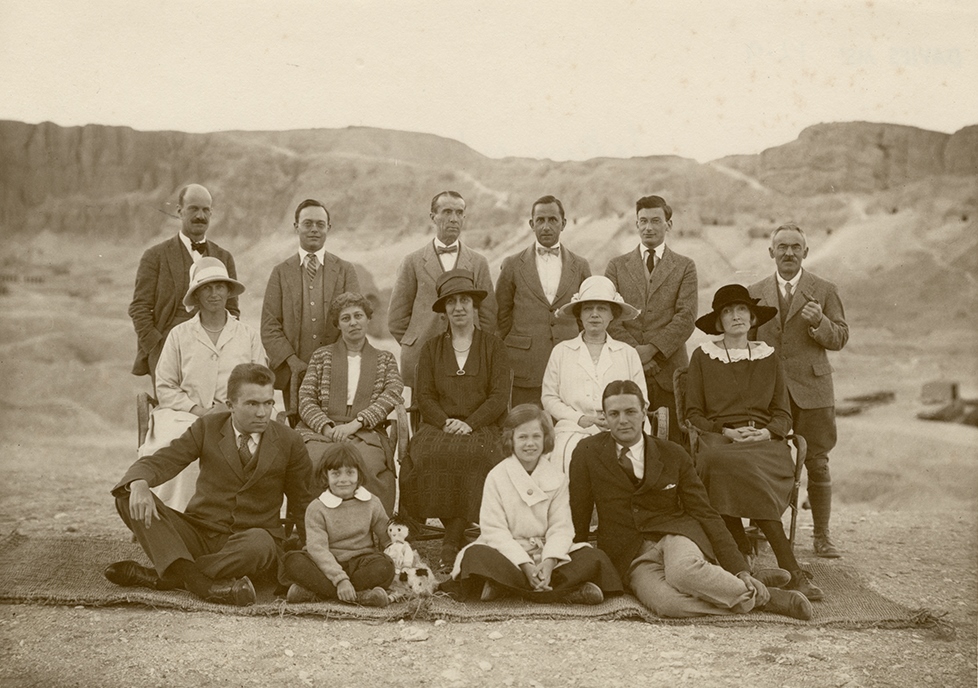 Group photograph of the Metropolitan Museum's Theban Expedition team, probably January 1925. Left to right, back row: Herbert Winlock, Walter Hauser, Albert Lythgoe, Harry Burton, Charles K. Wilkinson, Norman de Garis Davies; middle row: Helen Winlock, Nina Davies, Lucy Lythgoe, Minnie Burton, Miss Willis (governess); front row: Walter Cline, Barbara Winlock, Frances Winlock, Gouverneur Peek. See Minnie Burton's diary entries for January 1925, for her account of two different group photographs being taken.
(Davies MSS 12.9, © Griffith Institute, University of Oxford)
The diary
The diary covers the period from 4th May 1922 to 20th October 1926 and contains daily entries recording social engagements and memorable events, including the excavation of the tomb of Tutankhamun by Howard Carter's team. It details Mrs Burton's life and travels with her husband at home in Florence, their stays in Egypt (especially in Luxor, but also in Cairo), the trip they made across the United States and to Hollywood in 1924, and various holidays in Europe (London, Salzburg, St. Moritz, etc.).
Although the diary has been consulted and quoted in several publications, it is here reproduced in its entirety for the first time. It provides the only known account by a woman who was present during the excavation of the tomb of Tutankhamun.
The diary is a lined account book, bound in blue cloth, with around 400 pages and measuring 179 x 110 x 28 mm. For ease of consultation, individual webpages have been created for each year: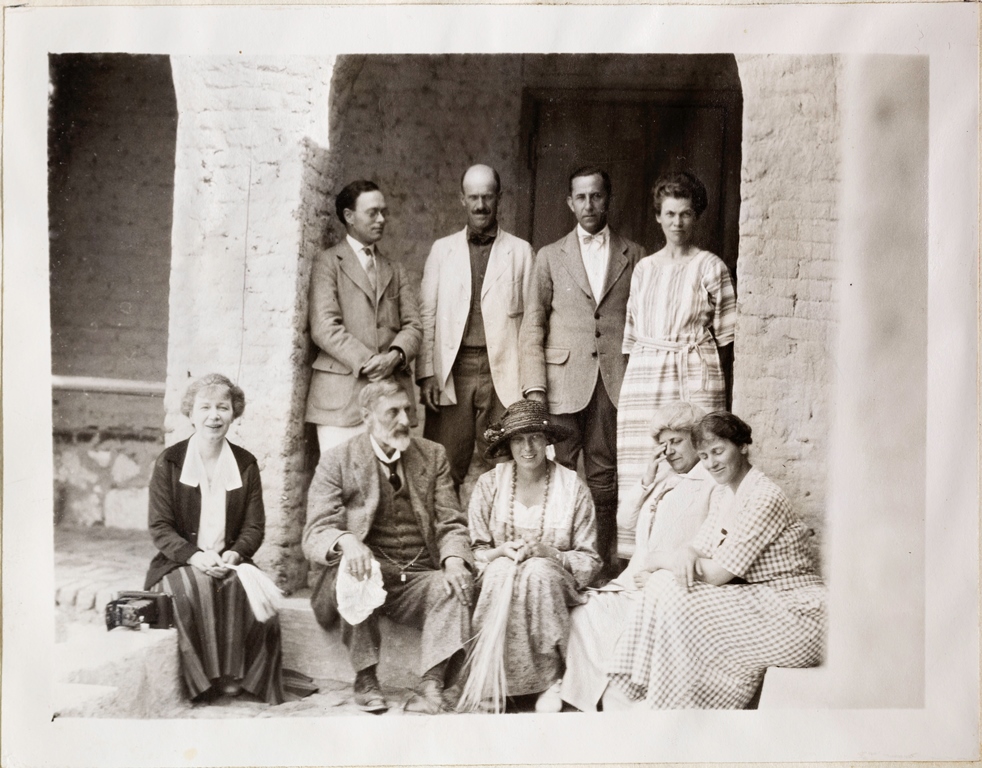 Group photograph of the Metropolitan Museum's Theban Expedition team, early 1920s. Left to right, back row: Walter Hauser, Herbert Winlock, Harry Burton, Mrs. Mace; front row: Minnie Burton, Sir. H. Ryder Haggard, Lady Haggard, Mrs Armstrong, Helen Winlock
(© Metropolitan Museum of Art, New York)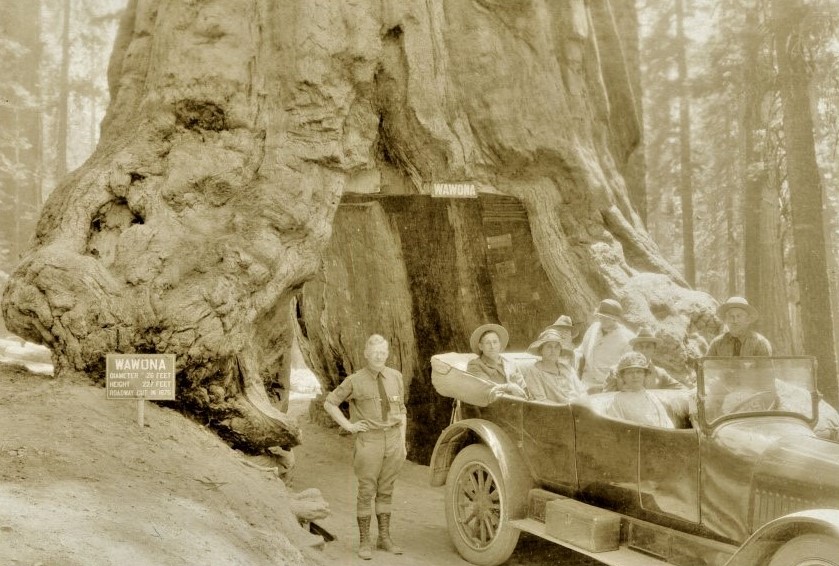 Group photograph in front of the Wawona Tunnel Tree (giant sequoia), Mariposa Grove, near Wawona in California. The members of the group as recorded on the reverse of the photograph mount: Front seat - Mrs H. C. [Minnie] Burton & Finley (driver). Jumpseats - Mrs H. C. Byrant & Mr H. C. Burton. Rear seat - Dr H. C. Bryant, O. Van Wyck & Mrs Van Wyck. Standing - Vincent Wagner. Photographer - E. N. Baxter, Log Cabin Studio, Wawona. See Minnie Burton's diary entry for Wednesday, 25 June 1924, for her account of this excursion. Photograph from the Laura Mercado Smith and Malcolm Gerald Smith library (photograph © David E. Howard and Jennifer L. Golden-Howard).
Conservation and transcription
Full digitization (photographing and scanning) of the diary has taken place. The Bodleian's Book Conservation Team at the University of Oxford has also carried out its conservation, namely the consolidation of the spine leather and the relocation of the back board in its original position. The diary has also been provided with a custom-fitted box and a loose archival dust jacket for additional protection.
Its contents have been fully transcribed and XML/TEI tagged, thanks to the efforts of a group of Griffith Institute volunteers. In the near future we plan to enhance this online publication by providing additional search functionality.
Acknowledgements
The Griffith Institute would like to express its gratitude to the Friends of the National Libraries and the Heritage Lottery Fund, without whose generous support it would not have been possible to add this precious item to the archive collections.
We are also grateful to Tom Hardwick and Dr Christina Riggs, who alerted us to the sale of the diary in the first instance, as well as highlighting the funding possibilities, and to Alexandra Greathead, Head of the Paper Conservation Department in the Ashmolean Museum, University of Oxford, who carried out the initial assessment of the diary and produced the necessary conservation report for the funding applications.
We are indebted to Nicole Gilroy, Head of Book Conservation at the Bodleian Libraries, University of Oxford, and her team, who undertook conservation measures to stabilise the diary in order to ensure its long term preservation.
Two of the photographs reproduced here were provided by the Department of Egyptian Art in the Metropolitan Museum of Art, New York, and we are particularly grateful to Catharine Roehrig for her assistance.
We are also indebted to Barbara Midgley for updating Minnie's biographical details.
Last, but not least, the online publication of the diary would not have been possible without the collaboration of the volunteers Ann-Katrin Gill, Lucy Norman and Manon Schutz, who devoted many hours assisting us with the transcription and, in exchange, got to know Minnie for themselves.
Coordination, editing and web presentation: Francisco Bosch-Puche, assisted by Elizabeth Fleming and Cat Warsi
Transcription: Elizabeth Fleming, Ann-Katrin Gill, Lucy Norman, Manon Schutz, Cat Warsi | Scanning and image editing: Jenni Navratil