Purchase Art Prints
From the Griffith Archives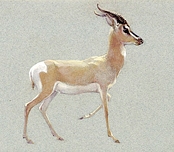 Tutankhamun: Anatomy of an Excavation
Tutankhamun: Anatomy of an Excavation is the definitive archaeological record for Howard Carter and Lord Carnarvon's discovery of the tomb of Tutankhamun.
On November 5th 1922, Howard Carter wrote in his pocket diary: 'Discovered tomb under tomb of Ramsses VI investigated same & found seals intact.' The subsequent excavation of the tomb of Tutankhamun captured the public imagination. The complete records were deposited in the Griffith Institute Archive shortly after Carter's death.
Our aim in publishing this material online is to provide an essential resource for scholars, school children and interested adults alike. This demanding project has taken 15 years and has been directed by Dr Jaromir Malek, the former Keeper of the Archive.
Carter's unique numbering system provides the framework on which the database is constructed. Each object, ranging from the outermost shrine (one of four which surrounded Tutankhamun's mummy; 207-01) to the smallest fragment of red ochre found on the floor of the tomb (620-83), was given its own number. Carter then recorded the position, size and appearance of the object, supplemented by his detailed drawings.
The other members of the excavation team included Arthur Mace who shared the work with Carter for the first two seasons. He was primarily responsible for the excavation diaries and entries on object cards. Alfred Lucas compiled the notes on conservation and Alan Gardiner copied the hieroglyphic inscriptions which form part of the card catalogue.
Harry Burton was the only photographer permitted to work in the tomb. Burton's iconic photographs captured the story of the excavation as it unfolded, creating not only beautiful images, but an invaluable record of archaeological context. Our carefully chosen selection of Harry Burton's photographs may be ordered from the Griffith Institute's print on demand website.